ONAM introduces a fully compliant platform, committed to their mission — led by professionals that are ready to take crypto exchanges out of murky waters of non compliance and welcome mass adoption. By launching the ONAM exchange, we want to resolve the shortcomings and other issues our competitors are facing and create scalable, and transparent exchange that's able to handle future mass adoption.
ONAM's collection of advanced tools and features will help boost the individual experience of novice and seasoned traders. Traders will have access to platform tools that leverage innovative technology through automated trading bots and algorithms, a customizable multilingual modular interface, risk management and robust technical analysis tools.
ONAM platform features, an exceedingly powerful trade matching engine that can process over ten million transactions per second and is further scalable.
Utilizing ONAM Advanced Threat Prevention and Intrusion Detection powered by machine learning to secure our platform. With the help of machine learning technologies, we will be able to detect any irregular activities and our Advanced Threat Prevention system will flag any potential problems in real-time, preventing breaches before it is too late.
ONAM is taking steps to become fully compliant and working with regulatory bodies on its plans to obtain a Broker-Dealer license, money transmitter license and register as an Alternative Trading System with the SEC.
Built with Future Mass Adoption in Mind.
Truly scalable, innovative, cryptocurrency trading platform with built in enterprise grade security, risk management, and advanced trading tools.
ONAM Matching Engine can handle over 10 Million Transactions per second with latencies as low as 40 nanoseconds. The combination of our proprietary Advanced Threat Prevention, Intrusion Detection, and Trade Surveillance tools along with encrypted databases, guarantees the safety of your funds and fairness of the market within our platform.
ONAM Exchange is ushering in a new era of standardization in digital asset trading by placing an emphasis on adhering to compliance, security, and usability. Join the future of Crypto Exchange!
Solutions
Unsafe exchanges and Security breaches
: Cryptocurrency exchanges have been the targets of various hacking groups beginning in 2011, and since then security concerns have only grown with each new breach. In 2017 alone crypto exchanges lost over $266 million dollars to security breaches and in the first half of 2018 major exchanges have already suffered losses in the excess of $731 million dollars to various security breaches. Security experts predict even larger scale attacks, thefts, and fraud as cryptocurrencies become more mainstream in the coming years.
Intrusion Detection powered by ML:
The cybersecurity challenge never ends. Even as we secure certain attack vectors, cybercriminals find new means of entry. Without continuous monitoring and real-time visibility, threats are often detected too late and the damage can be costly. Taking into consideration how security breaches affect market sentiment, we have made security our priority, and our developers have taken this security first attitude in building our platform. We are dedicated to making security the core competency of our platform and are committed to mandatory quarterly 3rd party security audits. We have developed our own proprietary Advanced Threat Prevention and Intrusion Detection powered by machine learning to secure our platform. With the help of machine learning technologies, we will be able to detect any irregular activities and our Advanced Threat Prevention system will flag any potential problems in real-time, preventing breaches before it is too late.
Scalability limits other exchanges face:
Current cryptocurrency exchanges a re not engineered to keep up with the upcoming growth of the market and will struggle in the future. Many exchanges have been running close to maximum capacity due to the vast increase in numbers of traders investing in cryptocurrencies, and no one expected the market to grow so quickly. Late 2017 and early 2018 brought a massive influx of new traders and investors entering the market. This exposed how outdated and rigid the current exchanges have become and highlighted the limitations in scaling. As a consequence, this overloaded the exchange matching engines during peak trading times, halting user registrations2 for weeks at a time by some of the largest cryptocurrency exchanges added to the already volatile nature of the still fragile yet booming market.
ONAM Exchange Scalability:
Our exchange is built with scaling in mind, engineering our platform around the belief that "if the scaling is not fast, then it is just too slow" . Many exchange matching engines cannot handle more than one or two million transactions per second. ONAM's platform easily outperforms them all. Our engineering team has delivered a much needed quality solution capable of withstanding heavy load and compliant with all current and future strict government regulations to the market. We are proud of our ultra-high performance and our versatile matching engine capable of processing in the excess of 10 million transactions per second with latencies as low as 40 nanoseconds. This was accomplished by utilizing GoLang programming language designed by Google which was specifically created for computationally intense server applications.
Market Manipulation:
The United States DOJ opening a criminal investigation into cryptocurrency market manipulations alone is irrefutable proof of large-scale market manipulations occurring within the cryptocurrency trading industry. Cryptocurrency exchanges are riddled with market manipulation techniques from spoofing, wash-trading, momentum ignition to pump and dump. These practices take advantage of novice and seasoned traders alike and would not be tolerated in traditional, regulated markets. In the volatile, unpredictable, and heavily manipulated crypto market, a lack of regulations makes it even more difficult to gain the trust of the masses or for large institutional investors to enter the market.
Real-time Trade Surveillance:
Utilizing machine learning technology, our Real-Time Market Surveillance, Supervision and Compliance system monitors for suspicious trading activity. Our system analyzes pre-trade and post-trade data to identify suspicious activity such as unusually large trades, pass-through trades, wash trades, spoofing, layering, stuffing, hammering, front-running, and momentum ignition. The ability to monitor for each of these allows us to generate Suspicious Activity Reports for the regulators in compliance with both current and future regulations. We plan to lead by example and make the cornerstone of our philosophy to suppress and eliminate market manipulation techniques to ensure safety and fairness of market conditions.
Lackluster customer Support:
Other platforms have taken a lackluster approach in offering customer support to their users. For over six months we conducted a survey of customers from the top five exchanges. Customer support was one of the main concerns raised. Some users reported waiting weeks for submitted support tickets to be addressed, even in urgent cases like loss of funds, account lockouts, and 2FA resets.
Customer first:
Our project is also grounded in service, and we are dedicated to providing the best support in the industry. We aim to offer 24/7/365 Live Chats in multiple languages and commit to addressing the most common issues within the first 15 minutes of a support ticket being submitted. We also commit to offering phone support within the first 6 months of full launch to make sure no issue goes unresolved.
Platform features
Limitless Crypto Exchange of the Future: ONAM has built a platform that is compliant with current and future regulations set forth by the SEC and other regulatory bodies. It is truly scalable, secure, feature packed, and is suited for current and future needs of retail and institutional traders alike.
Crypto to Crypto Trading
Margin Trading
OTC Trading
Margin Lending
Composite Index Fund
Paper Trading
Advanced Order Types
ML Trade Assistant
Auto-Trading
24/7 Live Chat Support
Push Notifications
Advanced Charting Tools
Token Sale Details
ONAM will be offering ERC-20 token named ONAM based on Ethereum network during it's ICO. Crowdsale will be conducted in BTC and ETH .
Crowdsale participants must pass AML and KYC verification process to be able to claim their tokens. Tokens will not be released until this process is completed by the participant.
Start: Oct 1, 2018 – End: Dec 1, 2018
Standard: ERC-20
Crowdsale Allocatio: 195M
Total Tokens: 300M
Tokens exchange rate: 1 ETH = ~2,875 ONAM, 1 BTC = ~81,250 ONAM
Crowdsale participants must pass AML and KYC verification process to be able to claim their tokens. Tokens will not be released until this process is completed by the participant.
Roadmap
The Team
More Informations
Website:
https://onam.io/
Whitepages:
https://onam.io/whitepaper
ANN:
https://bitcointalk.org/index.php?topic=5044081.msg46521506#msg46521506
Facebook: https://www.facebook.com/onam.official/
Twitter: https://twitter.com/OfficialOnam
Telegram: https://t.me/onamofficial
Author Bounty0x: Quan
Bitcointalk: https://bitcointalk.org/index.php?action=profile;u=1330327
Readmore…
Here's a strange fact: these days, cryptocurrency exchanges are mostly centralized despite the fact that decentralization is the basis of cryptocurrency tech. Decentralization is the cornerstone of this young technology, and the principle of decentralization provides one of the most important properties of electronic money – the lack of a central point of failure, as well as the inability to ban or take this kind of money away.
So why are today's crypto exchanges mostly centralized? We're used to major exchanges with their billion-dollar turnover, and with sacred horror we watch as some of them get hacked, having inconceivable sums of money stolen from user accounts. Sure, large exchanges tend to pay off their debts, but in the world of cryptocurrency the prices can vary greatly, even within a single day. Therefore, the return of the dollar equivalent of the stolen funds after months or even years, as it was the case with Mt Gox, at least disappoints the affected users. And sometimes it leads them to ruin.
Traditionally, decentralization has been associated with the semi-legal aspects of the Internet, such as torrents. No one here guarantees the integrity of the transaction, and all transactions are made by the users at their own risk. But times are changing, and in 2019 a completely new format of cryptocurrency exchange is going to be launched; one that will combine the advantages of both a decentralized and centralized exchange.
Meet Bistox – an advanced, semi-decentralized cryptocurrency exchange that incorporates the NEM blockchain platform and is designed for traders with varying levels of knowledge, whose need is a reliable partner with whom they can trust and get help 24/7.
The company features decentralization technology, which means that it is dividing its resources into parts and operating them in different physical and cloud locations all around the world. The company's token is called BSX and it will first be sold during the ICO, which will take place in 2 months. Bistox is considered to be one of the most secure crypto exchange platforms due to a number of technological innovations that the company leaders are about to introduce into the workflow.
Bistox incorporates the following features that create the unique experience that one has never had with other exchanges. These features are the social trading system, cross-chain transactions and decentralized swaps, atomic swaps, fraud detection and prevention, risk management, escrow transactions, key recovery services, and 24/7 customer support.
POWERED BY NEM TECHNOLOGY
Bistox is powered by NEM – the world's first "Smart Asset" blockchain built with businesses in mind.
"When choosing the platform, we took into account the speed of transactions, the scalability and the safety of procedures", – says Bistox's CTO, German Sidorenko. "Therefore, we selected the flexible and fast NEM platform, that addressed and resolved all the limitations and drawbacks other blockchain systems had."
NEM is valued for its speed and scalability, as well as for the revolutionary consensus mechanism program Pol and Supernode, which guarantees the unlimited growth of the public blockchain with no impact on the bandwidth.
NEM is a company that was the first crypto enterprise in the world to create and launch the Smart Assets option. Smart Assets are a type of currencies that represent fixed physical goods and intangible assets that might be purchased in other currencies. Smart Assets are operated by smart contracts, which are the computerized algorithms. NEM is currently providing every Internet user with a platform for using the existing smart contracts trade functions and creating new exchanges that would be powered by NEM technology.
A BRAND NEW SET OF FEATURES
Bistox also has some unique technology facilities to offer. Bistox is introducing a brand new engine called D.A.N.N.I. (Decentralized Artificial Neural Network Integration), an absolute innovation on the crypto exchange market. The Bistox team is backed by leading the experts from the NEM Foundation – the chief adviser Nels Valero and Solution Architect & Technical Trainer Shin Tatt Wong – who are about to disrupt the industry by building a semi-decentralized exchange.
D.A.N.N.I., a personal self-learning trade assistant that analyzes market data in real time, provides forecasts and solutions based on the vast experience of professional traders. With D.A.N.N.I. one can test his/her strategy on real historical data while getting suggested trading strategies based on behavior of professional traders as well. The system provides its users with alerts and notifications to improve their risk management. They get targeted news feeds for an accurate fundamental and historical data analysis to get briefed on project market conditions.
Technical support is a weak point of almost every exchange. Sometimes, users have to wait for a few days, or even weeks, for a response to their ticket. Bistox`s support consists of well trained specialists, who are available 24/7 along with world's best Internet security experts.
THE WAYS OF OBTAINING PROFIT
Trading fees
While conducting any payments on the Bistox crypto exchange platform, customers would be charged fees for the participation. Any of the payments that would be conducted in BSX would be offered a sufficient discount on the fees – up to 50% for the first year, and down to 10% for the fifth year of trade.

Listing fees
Any new project that would be registered on the Bistox platform would be charged a special fee for being listed. In the coming years, it would bring sufficient profit to the company as well as raise additional funds that would later be used for providing opportunities to the listed projects and involved companies.
Withdrawal fees
Once a person or a corporate enterprise wants to remove the money from the Bistox electronic wallet, he/she would be charged a withdrawal fee. Those fees would be invested in the further development of the company, and the earned data would help to monitor the rate of withdrawing cash from the platform.
Margin trading fees
Those traders who would be involved in marginal trade and would consequently have the margin account would have to pay the interest rate. The interest rate would be stated and controlled by the Bistox company. The marginal trade on the Bistox platform would allow the client to process more efficient trades.

Social trading fees
Social trading would help novice traders to feel as if they were experienced traders. This would give an opportunity for traders to learn from the most successful traders of the Exchange, who made their trades public. The economic model is set to allow both sides to earn and garner profits. A top-ranked trader would be able to share his portfolio and trades to the public. A user could follow the top-ranked trader on the list and turn on the "mirror" trading button to copy trades equivalent in percentage. The system would automatically charge a commission fee in case of a profitable deal and split it between the Exchange and trader.


For more information about Bistox, please visit:
Website:
https://bistox.com
Telegram Chat:
https://t.me/Bistox
Telegram:
https://t.me/BistoxExchange
Twitter: https://twitter.com/BistoxExchange
Facebook: https://www.facebook.com/bistox.exchange
Reddit: https://www.reddit.com/user/Bistox/
Medium: https://medium.com/@Bistox_Exchange
Author: HoangBinMCC
Bitcointalk: https://bitcointalk.org/index.php?action=profile;u=1330327
Readmore…
About Lesfex Exchange
Lesfex Exchange is a fast forward company with a next generation business model in the CryptoCurrency exchange space.
The Lesfex platform has all the prerequisites to succeed and to occupy a leading position amongst the industry players. This is due to the thorough strategic planning and oversight of the creative and dedicated founding team. The cornerstone of the platform's development is the detailed attention to the users / customers and addressing their needs as the highest priority. The next stage of the project's development is the launch of a self-sustainable Lesfex Token together with a merchant program.
To completely revolutionize the future of digital asset exchange trading, we are fusing Forex technologies with those of the Blockchain to provide everyone with a better trading experience. Lesfex will be every trader/investor's first choice which will maintain the Lesfex competitive advantage.
What is Lesfex?
Lesfex is a CryptoCurrency exchange designed to provide innovative but straightforward trading features to investors from all levels of experience.
Our goal is to build a trading platform that supports both new and well-established cryptocurrencies and providing users with a growing selection of trading opportunities.
Why Lesfex?
Lesfex is a CryptoCurrency exchange designed to provide innovative but straightforward trading features to investors from all levels of experience. Lesfex is a platform that will expose CryptoCurrency, Crypto-Trading and Blockchain assets to the general public via a well-designed user interface and easy-to-understand crypto-trading technology. Lesfex presents a functional token, LFX, to facilitate more straightforward and more successful exchanges with easy to use tools. The Lesfex platform will allow investors to learn pre and post-trade sessions using critical technical indicators, data, analysis, community strategies, and baseline analysis.
Stability and insurance: Our system is constantly upgraded and tested to ensure that we are meeting the industry's best standards.
Open and transparent: The Lesfex team is aware that it is not possible to gain trust and build a reputation quickly consequently, we will strive each and every day to earn respect and trust.
24 hour support: For non-stop and fast trading sessions we count on a highly skilled customer service team.
Private and secure: Lesfex Using cold wallet protecting users funds, each withdrawal process is manully by team.
Token Sale Details
Lesfex is a utility token An ERC20 utility token with a burn mechanism.
To be used as the utility token within the Lesfex ecosystem
Lower listing fee when paying with the Lesfex Token
Payment in Lesfex E-Commerce
Token Sale has two main goals: Adoption of LFX token; Raising funds for further developing, expanding and promoting the LesFex platform. The distribution will be carried out through a smart contract. Raised funds will be used to launch the platform, integrate the token and finance promotion and marketing. Depending on the raised sum, we can execute our project on different levels.
As an example...at the soft cap raised at an average price sold of $0.03 total tokens sold would be: 166.67M Tokens, at the Hard Cap it would be 1.67B total tokens. Founders, Team, Advisor tokens would be issued in addition to the tokens sold to match the percentages in the distribution of tokens.
Token Details
Token Name: Lesfex
Symbol: LFX
Payment:

Bitcoin & Ethereum
Type: ERC20
Min. Purchase: $50
Soft cap: $5M
Hard cap: $50M
Token sale
Token Allocation
Estimated Use of Fund
The Team
More Information Lesfex Exchange
Website:
https://lesx.org/
Whitepage:
https://lesx.org/whitepaper.pdf
ANN:
https://bitcointalk.org/index.php?topic=4941629.msg44531690#msg44531690
Facebook: https://www.facebook.com/LesfexExchange
Twitter: https://twitter.com/lesfex
Telegram: https://t.me/LesfexPlatform
Author: Hoangbinmcc
Bitcointalk: https://bitcointalk.org/index.php?action=profile;u=1330327
Readmore…
Cryptocurrency exchange is on the rise. The number of exchange is increasing every day. The number of exchange platform is also growing as well. Unfortunately, there are many problems in the existing cryptocurrency exchange. To make things worse, most of the existing exchange platforms do not address those problems, something that BitcoinBing will do.
BitcoinBing is a cryptocurrency exchange platform. This platform utilizes the Blockchain technology, which makes the platform secure and allows the users absolute control in handling their trades. Users have the freedom in how to set their exchange format, its process, and procedure. By giving control to users, the platform empowers traders and the whole cryptocurrency exchange market.
BitcoinBing Solutions
BitcoinBing addresses the problems in cryptocurrency exchange in several ways. The team realizes that if the platform is to succeed, these problems must be overcome. This is why the team took some time to develop and prepare the platform. The following is how the platform addresses the problems in cryptocurrency exchange.
First, the infrastructure. Without sufficient infrastructure, the user experience will deteriorate as the number of users increases. To overcome this problem, the team builds a platform that is able to maintain a uniform standard for its users and able to withstand fluctuations and heavy transaction loads. This results in a slow development at first but becomes an operational advantage later on.
In terms of security, BitcoinBing ensures that all of its building and design is audited thoroughly and thus, not allowing structural weaknesses and design flaws to be exploited by hacking and other black hat practices. The team ensures that the users' identity and/or any other users' information will not get compromised.
Within the platform, there are no irrational parameters imposed on the users. Instead, the platform gives absolute control to the users and tries to not interfere as much as possible. The platform enables users to connect with one another on a peer-to-peer basis, allowing each and every transaction details to be set by the users.
The platform prioritizes the users every time. In addition to providing a peer-to-peer based exchange and secure platform, BitcoinBing also provides a complaint and conflict resolution framework and a dedicated team for customer service to ensure that the users get the best trading experience. The team realizes that without a proper customer service, the platform will not succeed.
Key Features are:
1. Zero Cost Structure
Bing tokens are the Bitcoinbing platform's original token that gives traders zero trading costs, when using it to pay fees for trades made on Bitcoinbing exchanges. This means that Bitcoinbing raises capital, launches it with functional products and directly has practical utilities to benefit users. Utility tokens are functional tokens which, through intelligent contract programming, can be used in various ways. In the case of Bing, it can be used to pay for services on the platform as well as with zero trading costs
2. Multiple Currency Pairs
The BitcoinBing platform offers multiple currency pairs that will allow them to make multiple transactions simultaneously. Initially the token will be paired with BING, BTC, ETH & USDT. During the first quater 2019 Fiat will be applied where the Major currency will be USD, GBP & INR.
3. Full Stack Trading Table
This special feature strengthens traders to trade with all assets and derivatives. This allows them to invest by taking into account shared risks by telling them parameters and straightening transactions. This tells them the total amount of assets on the dashboard and allows them to calculate the profits they earn. The built-in trade calculator includes all parameters where traders make transactions and provide accurate results. The full stack trading table allows traders to plan business strategically, keeping all risks at bay.
4. Security
Security is a top priority for every platform that offers payment and transaction services. Bitcoinbing, being an exchange cannot leave a rock that is missed to make security very easy. Engineered on blockchain, Bitcoinbing has evaluated the security aspects that have existed and made the support platform against any security threats. This platform includes processes like KYC to make information really safe. Blockchain itself provides a security seal, but to ensure that everything is safe, Bitcoinbing has added every other parameter that makes security important.
More details will be available
2FA Authentication (For Login and Withdrawal) OTP Email
Verification Verification (For Login and Withdrawal)
All Funds will be kept in a secure cold wallet
Encrypted Key
DDOs Preotction
Data Transmission
5. Token Buyback
After a quarter, Bitcoinbing will collect a minimum of 50% of the exchange trading fees and use it to buy and burn Bing exchange tokens. This will keep the number of tokens balanced on the market and on the platform for users. This process will burn additional tokens collected in the market and keep the Bing token value intact. This will also help you get more values ​​above the value.
6. Speed
To defuse crypto traders from the problems mentioned above, the Bitcoinbing team has worked hard on working on architecture. The Bitcoinbing matching machine in this place has phenomenal transaction processing capacity that can handle up to 1,000,000 orders / second
7. Desktop & Cellular Applications
The Bitcoinbing platform was developed for desktop and cellular users. Because the number of cellphone users is increasing rapidly, Bitcoinbing does not want its users to lose a transaction because of this limitation. Platform compatibility with different operating systems such as Windows, Android, iOS and Linux has been examined by industry experts at various stages.
8. Trading competition and Airdrop distribution
With all the other benefits, the Bitcoinbing platform will also have daily trading competitions and distribution of air drops. This will make traders motivated to engage in trade, it will also help them recover their losses, if they face some. Airdrops have become an integral part of the ICO marketing campaign. They can add a large number of investors to any program.
The concept of trade competition is introduced to keep users engaged in trading activities that will help them in their portfolios. This program increases user participation and gives them many benefits.
9. 24/7 Live Chat
Bitcoinbing will provide 24/7 live support to help users with any questions or problems. Although, this platform is built in such a way that it doesn't leave the scope of the problem, the Bitcoinbing team understands that it may take a few moments for the user to reach an agreement with the platform. Therefore, we will have live chat support that will help users with questions and platform nuances. This support system will have experts who know the platform inside out. The team will resolve all questions as soon as possible and all complaints will be handled immediately.
10. Instant Withdrawals & Deposits.
There will be an Automatic Deposit and Withdrawal in the account after being verified with security. so users don't have to wait for deposits or withdrawals.
Exchanges Comparison Chart
Bing Token
Bing tokens are the Bitcoinbing platform's original token that gives traders zero trading costs, when using it to pay fees for trades made on Bitcoinbing exchanges. This means that Bitcoinbing raises capital, launches it with functional products and directly has practical utilities to benefit users. Utility tokens are functional tokens which, through intelligent contract programming, can be used in various ways. In the case of Bing, it can be used to pay for services on the platform as well as with zero trading costs.
• Bing tokens are utility tokens.
• The revenue sharing feature will be added in the future.
• Bing tokens can be used to trade other crypto currencies.
• Bing token values ​​can increase because trading volume increases in the exchange.
• A great way to diversify your crypto portfolio.
Token Info
Token BING
Platform Ethereum
Type ERC20
Price of preICO 1 BING = 0.50 USD
Prices at ICO 1 BING = 0.50 USD
Tokens sold 150,000,000
Investment info
Min. 0.2 ETH investment
Receives ETH, BTC
Distributed in 15% ICO
Soft cap 4.000.000 USD
Hard cap 40.000.000 USD
The Team
For more information about this project, please visit any of the channels:
WEBSITE:
https://www.bitcoinbing.io
ANN thread:
https://bitcointalk.org/index.php?topic=5037403.0
WHITEPAPER:
https://www.bitcoinbing.io/bitcoin%20bing.pdf
Twitter: https://twitter.com/BingBitcoin
Facebook: https://www.facebook.com/Bitcoinbing-228650464472887
Linkedin: https://www.linkedin.com/company/bitcoinbing
Telegram: https://t.me/bitcoinbing
Author: Hoangbinmcc
Bitcontalk: https://bitcointalk.org/index.php?action=profile;u=1330327
Readmore…
Engineer.aI is a blockchain and AI-powered ecosystem that helps anyone create bespoke software, faster, more cost-effective, and with a higher success rate than the current consultation model.
Project building, management, and distributed payments are all managed by our ecosystem
Engineer.ai's development team is established and experienced with an existing network of 26,000 engineers, 3,200 clients, $23 million in platform revenue, and 150 percent year on year growth. Pivoting to a blockchain and AI-driven model will industrialize our process and allow us scale globally and achieve our key goals.
The Problem
Outdated delivery process & broken trust. The number of small businesses creating bespoke software is higher than ever. But outsourcing software development has only a 9% success rate, with three main risks:
Time and cost:
Most customers are unable to describe the specifics of their product. This leads to weeks and months outlining what is expected and raising costs without transparency.
Delivery doubts
Developers are forced to work on weak or vague specs, reducing their ability to deliver a project, leading to renegotiation risks and high failure rates.
Payment conflicts
Vague project specifications lead to payment disputes. Vendors worry that they will not receive accurate payments and clients fear escalating costs to meet their original plans.
The Solution
Transparent transactions & optimized processes. Engineer.aI is a blockchain and AI-powered ecosystem that helps anyone create bespoke software, faster, more cost-effective, and with a higher success rate than the current consultation model.
Faster & leaner
Creators won't require any technical knowledge to realize their projects. AI will match their idea with suitable components and development teams.
Streamlined & guaranteed
Duplicate work is eliminated as existing components are used, rather than re-built. Costs are reduced and timelines shortened, allowing more focus on bespoke elements.
Managed & trusted
Every stage is managed by smart contract removing payment risks and ensuring on time, on budget delivery
The Engineer AI Ecosystem
Project building, management, and distributed payments are all managed by our ecosystem
Clients use the drag and drop interface to create their idea. They pay a weekly deposit of NAYA tokens to commence work.
AI selects components from existing building blocks to build the project.
Scored & verified delivery stakeholders are assigned builder cards with atomic level details.
Multiple, independent staked partners verify the deliverables.
Successful projects will automatically release escrowed funds via blockchain smart contract.
Hosting and maintenance are managed by AI & Cloud ops cost are automatically arbitraged
The NAYA Token
NAYA is a ERC-20 token used on the distributed payment network for clients and contributors.
Secure:
Customers purchase work from a marketplace of contributors, while still being guaranteed successful delivery of their project.
Quality Assured:
NAYA is staked along the project to verify the accuracy of work by a set of QAs sourced from the contributor network.
Escrowed Payments:
Each project has an associated smart contract which acts as an escrow. Funds are released as milestones are reached
Token Sale
Engineer.ai's development team is already established and experienced with a proven track record of delivery.
Hard cap: $20M
Total number of Tokens: 1.25B
Issuer: Engineer.ai Naya Limited, Cayman Islands
Jurisdictions that tokens will be offered: Cayman Islands
Jurisdictions that will be excluded from the offering: US, People's Republic of China
Contributions to be made in ETH, BTC
AML/KYC checks to be required
Initial Target: $20M
Seed Round: $3M
Pre-Sale: $17M
The NAYA token is an ERC-20 utility token that will allow customers to purchase custom software, and transact within our ecosystem of related services, such as cloud hosting and third-party SDKs.
Conversely, the token would act as a payment mechanism for capacity partners (dev/design/QA shops, service providers, etc.) and contributors on the network with an assured premium.
The Engineer Platform
Builder: Human Assisted AI that runs the online assembly line platform for building bespoke software. Builder runs on a distributed trust network that manages identification, delivery assurity, IPR, security, dispute resolution and stakeholder payments.
BuilderCare: A warranty service that allows customers to get updates to their bespoke software as 3rd party libraries decay over time and support to ensure their projects keep running.
CloudOps: Manage the running of your app using our platform that uses AI to manage Cloud spend, keep your software running & bring together all the services you need in one place.
The Mission Of Engineer
Engineer.ai's development team is established and experienced with an existing network of 26,000 engineers, 3,200 clients, $23 million in platform revenue, and 150 percent year on year growth. Pivoting to a blockchain and AI-driven model will industrialize our process and allow us scale globally and achieve our key goals.
Make software development available to anyone
AI removes the need for customer consultations, breaking down concepts into granular projects matched to existing components and the most suitable experts.
Ensure costs, timelines, and quality
Quality assurance and deliverables are managed by smart contract eliminating price and payment risks and production delays.
Streamline the production process
Our library of building blocks prevents duplicate work re-coding of existing features, making development faster and leaner.
Prevent decay and maintain functionality
Hosting, management, and updates are automated allowing faster concept to creation timelines and continued functionality.
The Team
Advisors

Engineer AI Roadmap
More Infomatios Engineer AI Project
Website:
https://token.engineer.ai/
Whitepaper:
https://token-assets.engineer.ai/NAYA_whitepaper.pdf
Telegram Group: https://t.me/eaitoken
Twitter: https://twitter.com/engineeringAI
Facebook: https://www.facebook.com/engineeringai/
ANN:
https://bitcointalk.org/index.php?topic=5006742.0
Author: Hoangbinmcc
Bitcointalk: https://bitcointalk.org/index.php?action=profile;u=1330327
Readmore…
Blockchain is becoming the cornerstone of modern innovation and has the potential to revolutionize the world. Recognizing this potential, we at Bithemoth have assembled a professional team of budding entrepreneurs and seasoned investors to create an all-encompassing blockchain trading platform. Since cryptocurrency is designed for mainstream adoption, our platform will be a stop-shop for clients that intend to earn huge returns on investment. We will create a user-friendly system that incorporates both traditional markets and the blockchain based assets.
Bithemoth Ecosystem will offer the following:
-Fast and intuitive exchange.
-A rich trading platform embedded with digital asset investment opportunities.
-A turnkey ICO Incubator.
Our platform usability combines a number of new features that are dedicated to enhancing the experience of our exchange users. NOT Only Technology features behind Our Revolutionary exchanges, IT will also be optimized for reviews Being user friendly. This will support new individuals entering the Crypto Market, while providing many features to accommodate the needs of cryptocurrency investors who turn pale experienced.
Why invest?
We are an all-in-one Blockchain Asset solution.
Permanence is what we strive for.
Beneficial both as a Short-term and Long-term Investment.
The Bithemoth exchange was created using 3 major fundamental pillars; Accessibility, Usability and Profitability.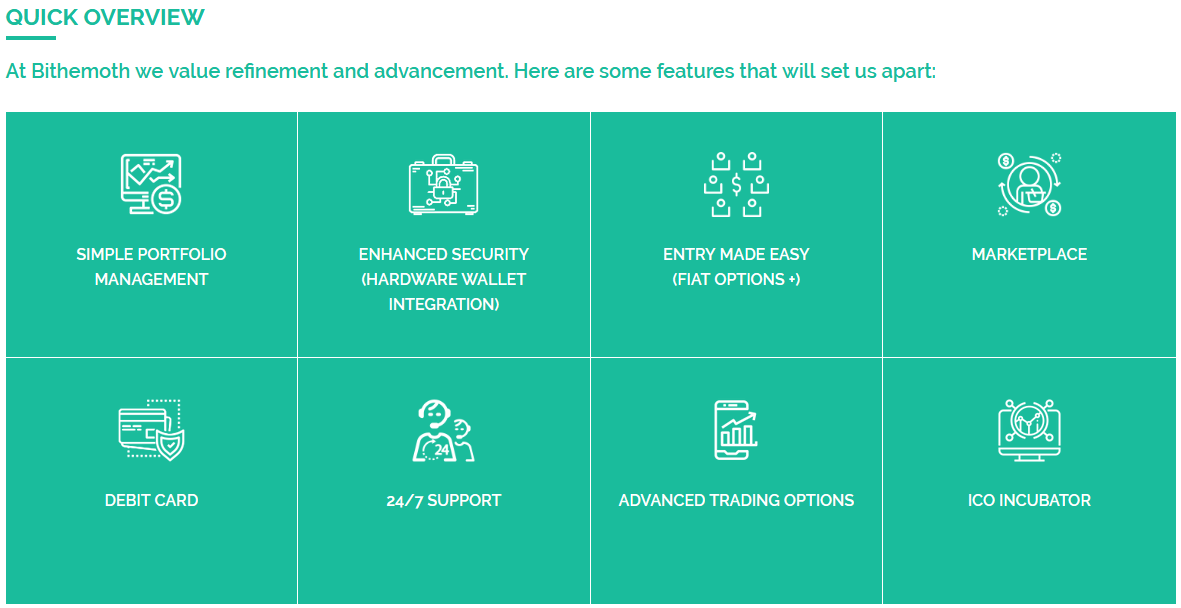 Created by a mixture of beginner entrepreneurs and experienced investors, Bithemoth combines the experience of his team to review crypto exchanges that include ALL that will filter how the cryptocurrency currency is traded. Our platform will combine several new features to differentiate itself from previous exchanges, and establish itself in the crypto market.Leveraging on the diversity of our team, we create a strong and strong exchange that will not only meet the needs of investors under traditional control, but also will simplify the process, even allowing individual non-technology to start trading.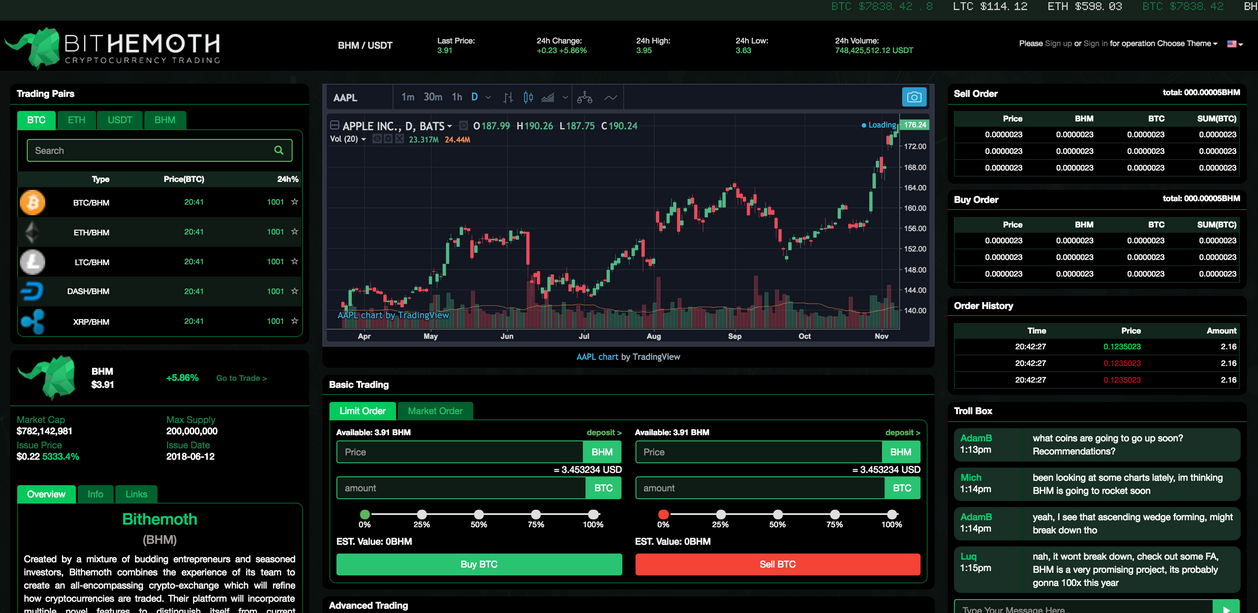 Key Distinguishing Features
It is important for any investor to be able to evaluate their holdings in a simple and timely manner. The problem with cryptocurrency exchange platforms today is that it is very difficult and tedious to do this. Many exchanges do not provide enough information to the users and makes it tough for them to keep track of their holdings and their performance against real-time market values. It is because of this reason that external apps have been created to solve what most exchanges have failed to deliver on.
In view of the above, we will strive to resolve this issue by incorporating features in our exchange with a view of providing users with the portfolio management tools needed to appropriately evaluate their holdings and investments. With the tools accessible on our platform, investors can monitor and track their investments at the comfort of their houses.
Quick view - Portfolio Distribution Tool
In-House Portfolio Manager
Special Trading Features
Ease of Entry into the Crypto-currency Market
Since the advent of cryptocurrency, many aspects have changed in the way businesses are conducted. In light of this, investing in the crypto space is becoming more popular and a lot of people are looking for an easy platform to penetrate the crypto market.
In view of the above, we will integrate easy payment options into our exchange, where users can buy cryptocurrency using fiat-based currency.
Buying Made Simple: As part of our effort to make cryptocurrency accessible by public members, we will be creating various channels to enable investors to purchase cryptocurrency without the rigorous process like other exchanges. As part of this, we hope to include the purchasing of cryptocurrency via money transfer, credit card, and even commonly used existing payment solutions into our exchange.
Crypto on-the-go
Our plan was not to create a platform that would rely solely on computer, but to develop a platform that would cater for all systems. In light of this, we are creating a user-friendly interface that would support full functionality of our exchange on a wide range of devices and platforms without any hitches.
Development of a Mobile App:
To fulfill our goal of creating a user-friendly exchange for a wide range of devices, we are working on developing a safe and efficient mobile app that would be linked directly to our exchange. This mobile app will be developed for both iOS and Android devices. This will result into a boost in the overall functionality of our exchange. This is just one step that we are taking towards creating a more efficient platform with an excellent user experience.
Dedicated Crypto-Marketplace
Once the foundation of our exchange is built, we want to progress and develop our business by adding additional streams. One of our visions is to create a crypto-marketplace linked to our exchange where vendors can trade products directly for cryptocurrency through a seamless and secure means.
Enhanced Security
Security is one of the main pillars of our exchange. We place value on the security of investors' funds. Investors are the reason why we are in business. We will leave no stone unturned to ensure active measures are taken to tackle security issues that other platforms cannot surmount. We guarantee users that our platform is safe and risk free. They can invest and sleep with both eyes closed, knowing fully well that their funds are protected.
Development of Specialized Hardware Wallets
Innovating the Future of Security on Cryptocurrency Exchanges
We're Here to Support You
One of the pitfalls of many exchanges today is the lack of sheer support. It is unbelievable what a lot of exchanges and trading platforms do these days. At Bithemoth, we strive to change this trend by ensuring that our customer comes first. Not only are we creating our exchange to ensure that it is simple, easy, and user-friendly, but we are also creating proper support infrastructure to help our users work through any issues or technical difficulties.
Dedicated Call Center and other Support Systems: As part of our initiative to develop a support system for our users, we will be setting up call centers, and other support avenues to ensure user concerns and issues are addressed swiftly
Utilization of Your Cryptocurrency
Although cryptocurrency is becoming more available, it is pretty difficult for the average user to utilize it for basic spending or purchases. This is an issue that the whole crypto-market faces, but developments are being made in the field to overcome this challenge. As cryptocurrency becomes more available its real-world use would become more prevalent.
Access to Your Crypto When You Need It: To address this issue, our development team will integrate spending cards into our exchange. Our goal is to allow users to directly spend their crypto via the use of our Bithemoth card. The transaction will work similar to that of a debit card purchase and will draw directly from cryptocurrency stores linked to the card holder's account. This is will allow users to access and utilize their virtual currencies whenever they need it. With this development in place, users will be able to access their virtual currencies 24/7 irrespective of their location.
Development of Brick and Mortar Locations
This is yet another means in which Bithemoth is setting the pace in the cryptocurrency industry. Through the creation of brick and mortar locations, visitation of our physical locations will allow users to conduct their trading and utilize our platform. This is an important step in driving cryptocurrency to become mainstream and available to all members of the public. These stores are our means of progressing further than just a cryptocurrency trading platform and becoming a long-term player in the market.
Teaching the Public: As part of our brick and mortar initiative, we want to make our physical locations public teaching centres. These locations shall be used to educate the general public about cryptocurrency, while mentoring them up with the basic tools needed to get into the cryptosphere.
User Interface
The radical transformation of the business landscape across many major industries is possible using the blockchain as an underlying protocol. A lack of usability is widely observed as a major barrier to entry into the already possible features on the blockchain space while a developer focused community is working on advancing the technology. An article from Coin Telegraph in 2017 explained the important role of user experience in the blockchain space to build sustainable businesses: "creating user interfaces that can enable the easy application of blockchain solutions without any special coding skills or extra computer language specialization appears to be an important aspect of industry development if blockchain is to go mainstream". In Bithemoth, user experience is core. Our aim is to provide a feature-rich platform that combines a highly intuitive front-end interface with a secure back-end infrastructure.
Security
Many of the security features and stringent protocols that have proven successful so far will be used for Bithemoth. We've wanted to maintain a firm commitment to customer security since our inception. We are taking all necessary steps to ensure that we have a secure foundation to base our platform off and ensure that our users are protected under all circumstances.
Two-factor Authentication
DDOS Protection
Cold Storage
Road Map

Our pre-ICO sale is expected to start July 2018, where you will be able to purchase coins at a heavily discounted rate.
You will be able to utilize the Bithemoth Coin (BHM) to pay for any fees on our exchange platform. This will include exchange fees, withdrawal fees, listing fees, etc. There will be a free trading incentive that we will introduce for the initial promotion of BHM usage on our exchange.
In case you have any questions or would like to join, all official sources of the project I will leave Below:
Website:
https://bithemoth.com/
Whitepaper:
http://cipldev.com/bithemoth/new/img/pdf/Bithemoth-Whitepaper-Revision-2.1.1.pdf
ANN:
https://bitcointalk.org/index.php?topic=3311741.0
Facebook: https://www.facebook.com/bithemoth/
Twitter: https://twitter.com/bithemoth?lang=en
Telegram: https://t.me/joinchat/H9BMmlFz_8LWfLq2CgLniA
YouTube: https://www.youtube.com/channel/UCndzKrOwSjnWVQQCnthWoNA
Reddit: https://www.reddit.com/r/Bithemoth/
Author: Hoangbinmcc
Bitcointalk: https://bitcointalk.org/index.php?action=profile;u=1330327
Readmore…
ABOUT CRYPTONITY
Cryptonity is the combination of two words: Crypto and Community.
Simple but strong and meaningful, our goal is to be an exchange that is respected by the Cryptocurrency Community. We aim at providing the most comprehensive, secure, transparent and collaborative exchange platform in the market.
We want to bring good vibes to the Crypto World, breaking with the 'only profit' policy of most exchanges.
CRYPTONITY MAIN FEATURES
A comprehensive "Cryptosystem"
Provide our users with the most ergonomic and performant trading tools.


Users who own our Cryptonity Token (XNY) to be granted with the lowest fees in the market.


We plan to develop our own Blockchain and a decentralised exchange with the participation of our community through a rewarded program.
Security & Insurance
Provide our users the most secure trading platform, working with the best security experts in the market, audited twice a year by independent security companies.
First crypto exchange to provide an insurance to refund our users in case of losses.
A Community centric trading platform
Involve the crypto community in the evolution of the platform to meet their needs and requests: features to be developed, coins to be listed, etc.
Responsive multilingual customer service, low fees and fully transparent policy.
"Forks", "Airdrops", "Staking Rewards" and "Masternode" features to be implemented.
CRYPTONITY EXCHANGE FEATURES
In this section, we will detail some features the Cryptonity Exchange will provide, at the launch, and also the ones we will develop according to our roadmap, step by step.
Security tools:
You will find below the list of security features we plan to implement on our exchange. Some of them will be available at the launch, the others will come on a regular pace, as they are being developed.
The email for new login with IP address mentioned can be disabled.
Security secret questions and anti-phishing code.
Two-Factor Authentication (2FA) through Google Authenticator and Authy.
FIDO U2F Security Key implementation on compatible devices.
Fingerprint unlock available for Cryptonity phone apps
Automatic generation of a PDF with 2FA QR Code and Reset Key to be able to print them
Matching engine
We aim at providing one of the most powerful matching engine on the market. We will support the following three types of orders:
Market Orders
Limit Orders
Stop-Loss Orders
Fiat deposits & withdrawals:
Users will be able to deposit and withdraw FIAT currencies through SEPA and International SWIFT Bank Transfers, once their account is verified. This feature will be implemented as soon as possible, once our negotiation with organisations to get the licence is done. Details will be communicated on Cryptonity.
Analysis & strategy tools:
To help our users make analysis on their trades and build their strategies, we will implement a "Portfolio" feature that will enable them to easily track their gains and losses for each trade, configure price alerts, and many other options to be detailed on the platform.
Forks & airdrops:
We plan to support forks but some forks/airdrops are doubtful or useless projects. We would like to let the community help us choose the right projects.
In the future, we will implement an "Airdrop" feature to give our users the possibility to participate to an Airdrop, to get credited directly on his/her Cryptonity Exchange account, and to trade the coin or token directly on our exchange, when it will be listed
Proof-of-stake wallets, staking & masternode:
We aim at being one of the first exchanges to support staking rewards for our customers. We believe that this is actually the best argument we have, to convince the crypto-community to use Cryptonity Exchange rather than any other exchange
If a user holds Proof-of-Stake coins on Cryptonity, we will credit his/her staking onto his/her wallet. Proof-of-Stake Rewards feature is planned for Q3 2019.
We will also consider implementing Masternode feature in the future.
CRYPTONITY TOKEN
We will issue our own token, called Cryptonity Token, with the ticker XNY.
Our Cryptonity Token will run natively on the Ethereum Blockchain. We are planning to develop our own Blockchain in the near future and we will start working on it right after our Token Sale is finalised.
We will issue a fixed amount of 100M (one hundred million) Cryptonity Tokens. We will never increase that amount or repurchase our Tokens. Manipulating our token such as decreasing the
total supply to create deflation is against our ethical policy and the worst way to gain respect from
the community, the traditional market and the regulators. We do not want to use practices that
contribute to give a bad image to a crypto market that surely doesn't need that.
Cryptonity Token will be a utility token and its price shall thus be related to its utility. Our token will grant its owners a lifetime discount of 50% on Cryptonity Exchange fees.
It will also enable its owners to take part to specific features such as the vote for the "Coin of the Month".
Token Symbol: XNY
Token Type: ERC20
Total Token Supply: 100.000.000
Token Price: 0.23 $
Minimum Transaction: 0.05 ETH
Minimum Goal: 500.000 $
Maximum Goal: 20.120.000 $
Public Sale 1 Starts: Oct 31, 2018
Public Sale 1 End: Nov 30, 2018
Public Sale 2 Starts: Nov 30, 2018
Public Sale 2 End: Dec 14, 2018
Public Sale 3 Starts: Dec 14, 2018
Public Sale 3 End: Dec 31, 2018
TOKEN SALE RULES & DETAILS
Our Token Sale will be done in multiple cryptocurrencies that are: Bitcoin, Bitcoin Cash, Ethereum, Litecoin and Binance Coin.
Our Token Sale will be opened for 2 months (61 days to be more precise).
All investors need to complete their "Know Your Customer" (KYC) registration to be able to withdraw their tokens.
Our lead company is located in France and thus the French laws and regulations will apply for the Crowdsale. USA citizens cannot participate in our token sale. Citizens from any other country are welcome.
Cryptonity Token will be released 15 working days after the end of our Token Sale.
CRYPTONITY Team
CRYPTONITY Advisors
Roadmap
More Infomatios
Website:
https://tokensale.cryptonity.io/en
Whitepage:
https://tokensale.cryptonity.io/storage/Whitepaper_EN.pdf
Facebook: https://www.facebook.com/CryptonityExchange
Twitter: https://www.facebook.com/CryptonityExchange
Telegram: https://t.me/CryptonityExchange
ANN: https://bitcointalk.org/index.php?topic=5005070
Author:
Hoangbinmcc
Bitcointalk: https://bitcointalk.org/index.php?action=profile;u=1330327
Readmore…
When you hear the word trading, what comes to mind? A complicated procedure? A fussy implementation that requires you to go in a circle? The expensive procedures that will cost you a lot? All of these negative things are often associated with the traditional and old school trading, which are the major reasons why people are reluctant to take part in the trading industry. With crypto trading, they know that they can get several benefits and easiness but still….the fussy implementation makes them step back although they know that it can be profitable.
Being as "DE COIN of DE People" building a platform that will be able to provide its partners and users with a friction less fast, secure and inexpensive trading experience that makes trading enjoyable and peaceful. Add a close support team with that and mix it with social trading, then just sparkle it with some profit sharing and you have a Winning Combo.
DECOIN aims to build a world-renowned, quick-action easy & simple multicurrency-exchange and trading platform, which shares the exchange's profits with all of its coin holders.More than that, DECOIN's top notch security level promises it's users a calm, relaxing and reliable experience to assure accomplished transactions.There is no doubt that an exchange sharing its own profits with its contributors will lead the world to new boundaries!Rest assured, we will cross these boundaries as well.
If you admire social trading, you can follow the trading activities of our top traders Our platform is completely regulated fully secured and transparent.
WHY DECOIN ?
+
Accessibility
: We are developing highly scalable, secure and commercial grade blockchain architecture
+
Trading Revenue and Profit Sharing Exchange:
Whether the market is up or down - YOU as a DECOIN holder gain from the transaction fees and the daily volume accumulated on the exchange. DECOIN shares all revenue and profits with its Coin holders. The trading revenues include: spreads, commissions, aggregation, risk positions and margin interest
+
Full Support
: Accessing customized information through our Online Customer Service, with detailed and precise information to get you started within the crypto space
+
Investment With Unprecedented Returns
: DECOIN's POS algorithm ensures an average of 6.2% annual interest return to all coin holders that will stake their coins on DECOIN's online wallet, rewarding their loyalty toward the coin adoption.
+
Monetization and Liquefaction
: The First exchange Platform to allow direct access to our profits using your own personal D-TEP credit card. Just another way you can save time.
HOW DID WORKS
Secure - following financial industry standards, D-TEP protects all sensitive data stored on its platform. Multi layered real time authentication encompasses our trading platform, protecting trades and withdrawals from the exchange, while providing maximum security to our user base
Scalable - capable of executing up to 1 million match's per second, making D-TEP one of the fastest and most scalable exchanges in the market today, able to handle the large volumes of trading expected.
Quick – D-TEP uses innovative technology that enables us to execute buy/sell orders swiftly - without the lag that characterizes many of the exchanges active today.
Social Trading – leading traders on D-TEP who are interested and consenting will receive DECOINS to have their activities tracked and displayed anonymously, allowing other traders to learn from their knowledge and experience.
Trading Tools – D-TEP also plans on offering financial tools such as contract for difference(CFDs), allowing traders to take advantage of prices moving up or prices moving down on underlying financial instruments. DECOINS team of analysts will provide periodic reports on market trends / new ICO's and digital coins that are in the spotlight.
DECOIN Token
Name: DTEP
Platform: Algo
Type: Coin
Price in ICO: 1 DTEP = 0.9 USD
BONUS Sale: 50%
Tokens for sale: 42,000,000
Accepting: ETH, BTC, fiat
Distributed in ICO: 60%
Soft cap: 4,000,000 USD
Hard cap: 30,000,000 USD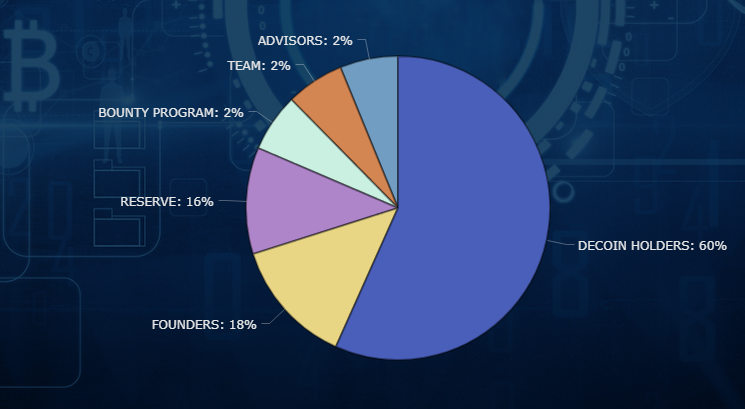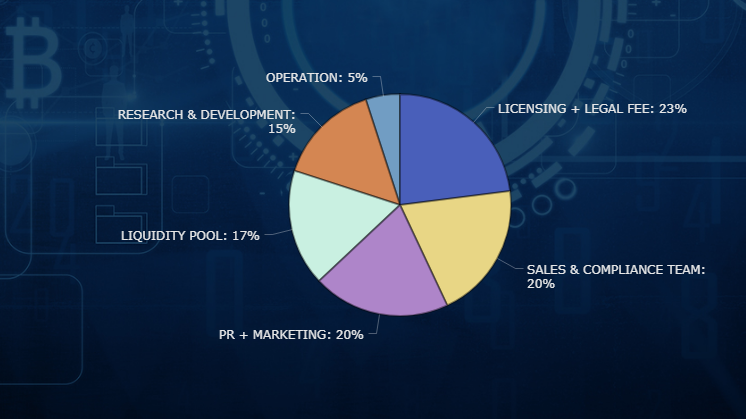 Roadmap
For more information, please visit the link below:
Website:
https://www.decoin.io/
Whitepaper: https://www.decoin.io/Decoin-WhitePaper-v1.2-08.03.pdf/
Facebook: https://fb.me/DECOIN.io
Twitter: https://twitter.com/decoin16/
Telegram: https://t.me/xDECOIN/
Ann Thread: https://bitcointalk.org/index.php?topic=3311450
Author: HoangBinMCC
Bitcointalk: https://bitcointalk.org/index.php?action=profile;u=1330327
Readmore…
ICOVO is a versatile platform facilitating the launch of DAICOs and integrating all the functionality necessary for running ICO campaigns.
MISSION &VISION
ICOs are at the crux of the ecosystem necessary for hatching innovative blockchain-related startups.
ICOVO will support a healthy ICO which will make a future by offering ICOVO Web、ICOVO App and DAICOVO. Details are described below in three points.
Increase ICO Transparency and Protect Investors
Reduce Barriers for ICO Participation
Increase Project Durability
Increase ICO Transparency and Protect Investors
We aim to protect ICO investors by introducing a fundraising management system and
increasing the transparency of ICO project founders as well as the projects themselves.
+ Decentralized Token Management:
We will create DAICOVO, an original smart contract incorporating DAICO's fundamental idea of decentralized token management.
We will introduce a system that only allows withdrawals according to the capital demand of a project's pre-loaded schedule through a Tap system (setting an amount that can be withdrawn per unit of time). This will prevent developers from running off with raised funds.
In the event that an investor notices a problem with the project, they are able to retract their investment that was raised under agreement as a refund.
+ Decentralized White Paper Versioning:
Versioning for White Paper not to be tamperd is managed by InterPlanetary File System (IPFS).
+ Team Member KYC/AML:
We will increase ICO project team member's transparency by providing ICO project team member's KYC/AML on ICOVO website in a centralized method.
+ Visualize Activity Situation:
We will increase project transparency by quantifying social media activity and GitHub updates on ICOVO's website.
Reduce Barriers for ICO Participation
Create a better investment environment and reduce barriers to ICO participation by unifying the investment process and the format for information disclosure.
+ Implementing Local Wallet:
Implementing a safe local wallet in ICOVO's original ICO-specialized smartphone app, the ICOVO App, helps with understanding the participation process for complicated token sales and managing tokens.
+ Unifying Formats
ICO project pages and summaries of whitepapers on ICOVO's website presents information consicely, making it easier to understand for investors. Accessibility is enhanced by offering a summary of all the projects using the same format.
+ Reducing labor for KYC
Eliminate the need for ICO investors to do KYC each time they invest. When they participate in ICO project token sales on the ICOVO App, they perform KYC only once as ICOVO will share the information with the ICO project founders.
Increase Project Durability
Sustain project founders' motivation for product release and increase project durability by introducing a system in which project founders can only withdraw tokens according to their investment demand milestone.
+ Fund acquisition≠Goal:
By introducing a system of original smart contracts implementing DAICOVO in which funds can only be withdrawn according to a project's pre-loaded schedule by Tap (set an amount that can be withdrawn per unit of time), motivation to finish the project founders.
Service Overview and Organization
ICOVO is the world's first and only ICO platform that can actualize healthy ICOs. The core of its service is the DAICOVO smart contract, which is based on the concept of DAICO, which was advocated by Ethereum co-founder Vitalik Buterin in January 2018.
Each country's government is advancing regulation in order to create a healthy environment for ICOs, but this is difficult to achieve for borderless ICOs using only centralized regulation.
We will solve fraud and decrease in project motivation – the problems raised by ICOs – through the decentralized approach of DAICO.
With the mission of having all ICOs use DAICO, we will develop and open source DAICOVO, which is aligned with the thinking behind DAICO.
In addition, we will issue OVO tokens, which will be specialized as a currency for procuring ICO investments.
Ethereum, which has a high distribution amount and is universal, is currently used as the main currency for procurement, but we will provide benefits for ICO investors for using OVO for participating in projects on the ICOVO platform.
OVO is the world's only token specialized for ICO fund procurement. Its value increases the more sound ICOs are undertaken on the ICOVO platform, so OVO will serve as a symbol and index of the health of the ICO environment.
In addition to creating a healthy ICO environment with DAICOVO and OVO as its core, ICOVO has as its mission to expand the range of ICO investors and the ICO market itself. ICOVO will solve problems by eliminating barriers to the process of participating in ICOs so that anyone can easily participate. They will be solved through providing ICOVO App (iOS/Android), which integrates the world's only wallet optimized for ICOs, and ICOVO Web, which will increase usability when participating in ICOs through personal computers.
Through the provision of its four services – DAICOVO, OVO, ICOVO App, and ICOVO Web – ICOVO will build an ecosystem for reliable blockchain-related startups.
DAICOVO: Smart contracts implementing the DAICO model
In addition to the functions required by ICO project founders such as issuing, selling, and managing unique tokens, DAICOVO offers smart contracts optimized for ICOs adopting the DAICO model. For ICO project founders who use DAICOVO to do their ICO on ICOVO Web, all of the required work, including token design, DAICOVO parameter setting, compilation, and deployment, is free. We plan to release DAICOVO as open source.
Proposed by Ethereum co-founder Vitalik Buterin on January 6, 2018, a DAICO is a model that uses decentralized methods to prevent planners from dishonestly using funds raised through an ICO. In ICOs using tokens that conform to the ERC20 standard, smart contracts are used to limit the amount of funds raised that project founders can withdraw per unit of time, and if the project is canceled for whatever reason, the remaining funds can be returned to the ICO investors if a consensus is reached
ICOVO App: A smartphone app featuring a wallet optimized for ICOs
ICOVO's iOS/Android features a multi-token multi-account wallet compatible with ETH and ERC20 tokens based on the safe private wallet, Wallet format with the purpose of enhancing security by storing the private key only in the mobile device not online, that has been released and is already in use by many, Tachyon, developed from scratch by our CTO Nishimura.
ICOVO App have the one stop solution for investors and project founders. Project founder don't need to develop it anymore.
ICOVO App also have dashboard features,KYC/AML,Whitelist registration, Whitepaper viewer,ICO project list integrates with ICOVO Web and Photo ID uploader.
Furthermore it include DAICOVO user interface and has the interface for Decentralized Exchange(DEX) where users can trade their tokens.
ICOVO Web: An ICO listing site with thorough ICO investor protections
ICOVO Web is a website for ICO project founders to list their ICOs for investors. It thoroughly protects ICO investors and lists only ICO projects that comply with ICOVO requirements. The criteria for listing on ICOVO are the utilization of DAICOVO, planner KYC/AML as required by ICOVO, and disclosure of the progress of the project.
The biggest feature is whitepaper versioning using IPFS. All the whitepapers of ICO projects listed on ICOVO Web are managed by IPFS and Block chain. Whitepaper versioning through IPFS storage and block chain makes it impossible to tamper with whitepapers later on. This means that even if investors fail to download the whitepaper before the ICO or lose it, they can always verify whether the project is proceeding according to the original whitepaper, and if it is not, they can draft and vote to have their money refunded.
The KYC required by ICOVO, which includes passport-based ID verification and AML, applies not only to the investors but also to the ICO project founders. Furthermore, in order to increase the transparency of ICO project activity, ICOVO shares the state of progress on the project by quantifying and displaying the project's use of GitHub, social media, and other major tools.
ICOVO also requires a uniform format for certain essential whitepaper items so that each ICO project planner's whitepaper can be read in a unified format. The ICOVO App is synchronized with the ICO list information and bookmark function so that ICO investors can achieve participation all in one place.
We also provide ICO project founders with a white-label dashboard for investors including a referral program, airdrop program, KYC/AML and more.
Token and Token Sale
ICOVO will issue its own token—OVO (OH-vo)—that can be used on our ICO platform ICOVO. OVO has some utility functions. ICO investors can purchase ICO project tokens at a 25% discount compared to purchasing with ETH. It can also be used to pay for co-working spaces and other services ICOVO provides. Moreover, OVO can be used to exercise voting rights for raising the Tap (amount that can be withdrawn per second) or returning a procured funds back to the investors. The OVO token does not possess the functionality of assets such as securities, and its distribution is not linked to ICOVO's profits
TEAM
Already with extensive experience building innovative projects in the internet infrastructure industry, dining industry, music industry, IoT and AI-related enterprises under his belt, Akihiro Yamase then delved into the blockchain terrain for the next 2 years, thus laying the foundation for ICOVO's vision in 2018.
Service design, UI/UX design, and Creative Professional Iwao Sasaki with experience at both the local and global level, took on Akihiro's vision and designed the overall ICOVO project, undertaking both the creative and management aspects as CDO (Chief Design Officer).
Soon after, Masahiko Kumada, a Singapore-based Financial Professional currently running several innovative global startups, joined the team as CFO (Chief Financial Officer) in order to drive the financial and global development of Akihiro's vision.
Following Masahiko, one of the top engineers driving the blockchain industry, and who won the Best Innovation Award at the Global Blockchain Summit 2016, Yoshikazu Nishimura, became an advocate of Akihiro's vision. Through collaboration with G.U. Lab, of which Yoshikazu is the CEO, he came on board as CTO (Chief Technology Officer) to provide technical support for the ICOVO project in its entirety.
Finally, Oliver Gomm who has experience operating multiple enterprises in Switzerland joined the team, setting up ICOVO's base in Switzerland, handling legal affairs and General management to fully support the back office operations as CAO (Chief Administrative Officer).
The ICOVO team consisting of the five members Akihiro, Iwao, Yoshikazu, Masahiko, and Oliver is structured to deliver phenomenal service at a higher dimension, through a fusion of their dynamic and exceptional expertise.
Roadmap
More information
Website:
https://icovo.co/
Whitepage:
https://icovo.co/whitepaper/20180831_wp_service_en.pdf
ANN: https://bitcointalk.org/index.php?topic=4468796.0
Facebook: https://www.facebook.com/icovoco/
Twitter: https://twitter.com/ICOVOCO
Telegram: https://t.me/icovoco
Author: hoangbinmcc
Profile: https://bitcointalk.org/index.php?action=profile;u=1330327
Readmore…
Scavo technologies is an innovative blockchain company established in Argentina specialized in the construction of data center infrastructure for crypto-mining using renewable resources. It offers an intelligent, scalable, environmentally friendly solution with the ability to maximize energy resources with zero carbon footprint, natural and self-sufficient.
How the investment works
Our project aims at the construction and management of large-scale self-sustaining crypto-mining farms.
The funds rised during the ICO will be mainly allocated to the construction of the mining farms and their power plants to fully supply their energy consumption.
Once energy independence has been achieved, the income generated by the mining farms will cover all maintenance costs and regularly generate additional income.
+ Create Account
Register on our platform by filling the form and get your access credentials to invest in the project.
+ Buy SCAVO tokens
Select the amount of tokens to buy and the payment method of your preference. We accept credit card payments, bank transfers and a wide variety of cryptocurrencies.
+ Automatic payments
Guaranteed fully automatic payments in Ether (ETH) every week! You can choose other payment options by changing your preferences on our platform.
WHY SCAVO? - Competitive advantages
The SCAVO approach results in a modular solution, which makes it easily scalable. It produces its own electricity using renewable energy sources, becoming self-sustainable and environmentally friendly.
All this goes to the profitability of the project, guaranteeing periodical payments to investors in a completely transparent and automatic manner by means of smart-contracts.
Self-Sustainability:
Achieving energy self-sustainability was a key milestone within the development method of the project itself because it can enable the event of the company's different in operation models while not being tied to ancient energy prices similarly on energy market fluctuations or policies of energy. the employment of renewable energies for the generation of electricity, permits to develop this scheme in several elements of the world wherever energy value is incompatible with the market of crypto mining.
Scavo Technologies goes to be making associate environmentally economical system for cryptocurrency mining that's sustainably for the long term. it's nice to see them taking a protracted term approach to their business model. Cryptocurrency sounds like it's here to remain, and with that comes the requirement for economical cryptocurrency mining operations like Scavo Technologies. The team is additionally terribly experienced. To scan additional regarding their concepts and business plans, please make certain to check their web site and whitepaper that are listed below.
SCAVO Token:
The initial provide of coins (ICO) can enable Scavo technologies to hold out large-scale mining operations fully live by building a power plant that may use renewable energy sources. this may enable investors to maximize their profits and find various benefits within the short, medium and long run.
Tokensale details
Token Name: SCAVO Token
Token Ticker: SCAVO
Decimals: 18
Total Supply
100,000,000.00 SCAVO
Smart Contract Address: 0xa62ce5f4175ba550440171ef809197ee21002d64
Start date: 2018-07-15 00:00:00
End date: 2018-10-31 23:59:59
Market cap: 100,000,000
Available tokens: 80,000,000
Accepted payment methods: BTC, BCH, ETC, ETH, LTC, XMR, DASH, DCR, ZEC, XUN, BANK TRANSFERS, CREDIT CARDS
ROADMAP
With more than 10 years of experience in the telecommunications industry and having finishied the different stages of R&D, we will build the first large-scale, self-sustaining and scalable crypto mining farm, thus facilitating access to blockchain technology in a predictable manner and friendly with the environment.
We extend the invitation to all people to participate in the acquisition of the SCAVO Token and join this project through our official channels.
All your suggestions, which strengthen the project, will be considered.
OUR TEAM
Professional Experts
SCAVO Technologies currently has 7 main team members, 2 legal consultants and 3 external collaborators.
Every one of us is highly motivated in achieving our vision of becoming a leader in the regional market for sustainable cryptocurrency mining.
More infomation
Website:
https://scavo.farm
Whitepapper
https://scavo.farm/download/WhitepaperEnglishv1.15.pdf
Telegram: https://t.me/SCAVOTech_English
Twitter: https://twitter.com/SCAVOTech
Facebook: https://www.facebook.com/SCAVOTechnologies/
ANN:
https://bitcointalk.org/index.php?topic=4832228.new#new
Author: hoangbinmcc
Profile: https://bitcointalk.org/index.php?action=profile;u=1330327
Readmore…